Max Hattler Canal Commission, KXFS, Goods Way, London, 6-16 Sep 2012



AWARDS


-

Zbigniew Rybczynski Special Prize

, Anilogue, Budapest, Hungary, 2013
- Vimeo Staff Pick, 2012

SCREENINGS 2015
-

–scape

, Zhou B Art Center, Chicago, IL, USA, 17 Jul - 28 Aug (curated by Snow Yunxue Fu and Mo Chen)
- Melbourne International Animation Festival, Australia, 24 Jun

(Max Hattler screening)


- FILE - Electronic Language International Festival, Sao Paulo, Brazil, 16 Jun - Aug
- Hongik University, Seoul, Korea, 19 May (lecture)
- Open Source Art Forum, WCO Korea, Seoul, Korea, 17 May (lecture)
- Visible Bits, Audible Bytes, Phoenix Cinema, Leicester, UK, 22 Apr (curated by Bret Battey)
- Resonate, Belgrade, Serbia, 17 Apr (lecture)
- The Sublime, Art Yourself Gallery, Bucharest, 3 Apr
- Monstra Animated Film Festival, Lisbon, Portugal, 17 Mar (masterclass)
- Monstra Animated Film Festival, Lisbon, Portugal, 16-22 Mar (jury retrospective)
- Tehran International Animation Festival, Tehran, Iran, 12 Mar (masterclass)
- Byron Bay Film Festival, Australia, 6 Mar
- Animac, Lleida, Spain, 19-22 Feb
- School of Creative Media, City University of Hong Kong, 12 Jan (lecture)

2014
- Cologne Game Lab, University of Applied Sciences, Cologne, Germany, 10 Dec (lecture)
- Goldsmiths, University of London, London, UK, 9 Dec (lecture)
- Middlesex University, London, 2 Dec (lecture)
- Echo Park Film Center, Los Angeles, CA, USA, 21 Nov (retrospective)
- KLEX - Kuala Lumpur Experimental Film & Video Festival, Kuala Lumpur, Malaysia, 19-23 Nov
- University of Southern California, Los Angeles, CA, USA, 19 Nov (lecture)
- CalArts, Valencia, California, USA, 17 Nov (lecture)
- Norwich University of the Arts, Norwich, UK, 7 Nov (lecture)
- London International Animation Festival, London, 1 Nov (masterclass)
- London College of Communication, London, UK, 30 Oct (lecture)
- Contemporary Art Ruhr, Zollverein, Germany, 24-26 Oct (Directors Lounge screening)
- Medialogy, Aalborg University Copenhagen, Copenhagen, Denmark, 16 Oct (lecture)
- London Animation Club, Green Man, Fitzrovia, London, 7 Oct (artist talk)
- National Film and Television School, Beaconsfield, UK, 29 Sep (lecture)
- Lucca Film Festival, Lucca, Italy, 28 Sep - 3 Oct
- CASS, London Metropolitan University, London, 24 Sep (artist talk)
- Lux, Wellington, New Zealand, 22-31 Aug, 6pm-11pm daily (WATER SCREEN INSTALLATION)
- SICAF, Seoul, Korea, 22-27 Jul
- Lago Film Fest, Revine Lago, Italy, 18-26 Jul
- Audiovisual Abstractions. Max Hattler's Doctorate in Fine Art Exhibition, Moving Image Research Centre, University of East London, London, UK, 19-24 Jun
- stART Festival, Santa Lucia di Piave, Italy, 20-22 Jun
- Fest Anca, Zilina, Slovakia, 18-22 Jun (Profile: Max Hattler)
- DOTMOV Festival, Japan + world tour, through 2014
- Museo de Arte Contemporaneo, Caracas, Venezuela, 14 May (lecture)
- School of Creative Media, City University of Hong Kong, Hong Kong, 28 Apr (lecture)
-

Jenseits der Sprache – Language and beyond

, Galerie B, Stadtbibliothek, Stuttgart, Germany, 4 Apr - 24 May (Thorsten Fleisch, Max Hattler, Michel Kloefkorn, Robert Seidel 4-person ITFS exhibition)
- Mecal, Barcelona, Spain, 5-30 Mar
- Anima Festival, Brussels, Belgium, 28 Feb - 9 Mar
- KASKcinema, Ghent, Belgium, 20 Feb (lecture)
- Sint Lucas Antwerpen, Antwerp, Belgium, 19 Feb (lecture)
- Sint-Lucas, Ghent, Belgium, 18 Feb (talk at Digital Design International Day)
- Middlesbrough Institute of Modern Art, Middlesbrough, UK, 12 Feb (Max Hattler masterclass organized by Animate Projects as part of Animex)
- 10th Berlin International Directors Lounge, Berlin, 6-16 Feb
- Reykjavík Visual Music · Punto y Raya Festival, Reykjavik, Iceland, 30 Jan - 2 Feb
- British Shorts, Berlin, 17-20 Jan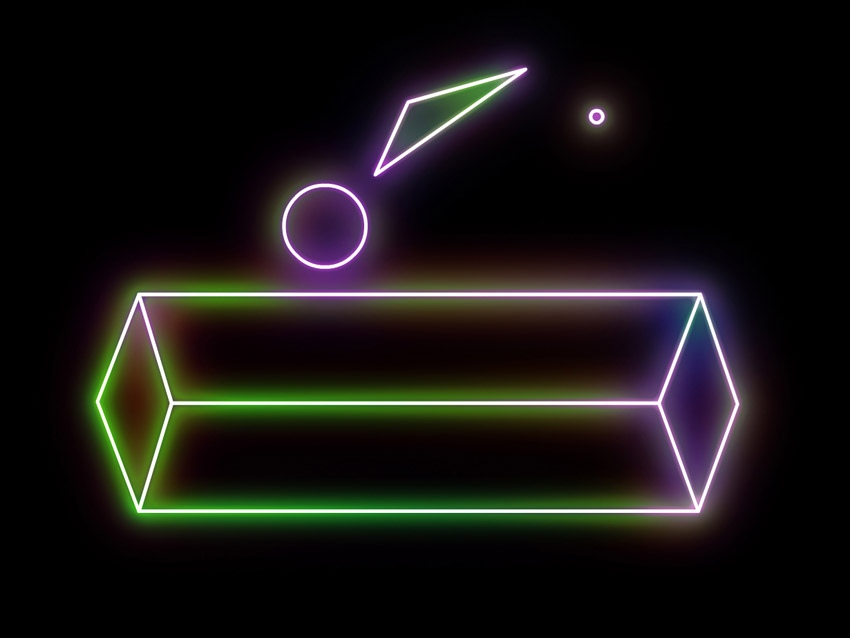 2013
- Middlesex University (Animation Dept), London, 9 Dec (lecture)
- Les Nuits Magiques, Begles, Bordeaux, Le Haillan, France, 4-15 Dec
- Anilogue, Budapest, Hungary, 27 Nov - 1 Dec
- Animated Dreams, Tallinn, Estonia, 27 Nov - 1 Dec
- University of East London, London, UK, 22 Nov (artist talk)
- Royal College of Art, London, 20 Nov (artist talk)
- St. Louis International Film Festival, St. Louis, USA, 14-24 Nov
- Expotoons Int'l Animation Festival, Buenos Aires, Argentina, 13-15 Nov
- Animax, Skopje, Republic of Macedonia, 7-9 Nov
- DOTMOV Festival, Japan + world tour, 1 Nov - through 2014
- Multivision Festival, Erarta Museum, St. Petersburg, Russia, 1-7 Nov
- London Int'l Animation Festival, London, UK, 25 Oct - 3 Nov
- Le Quattro Giornate del Cinema di Napoli, Naples, Italy, 22-27 Oct
- Un Festival C'est Trop Court, Nice, France, 15-20 Oct
- Animatou Festival, Geneva, Switzerland, 11 Oct (masterclass)
- Lucerne University of Applied Sciences and Arts - HSLU, Switzerland, 9 Oct (lecture)
- TOFUZI International Animation Festival, Batumi, Georgia, 4 Oct (masterclass)
- Balkanima, Belgrade, Serbia, 1-5 Oct
- Kinofest, Bucharest, Romania, 27-29 Sep
- 25th Onion City Experimental Film and Video Festival, Chicago, IL, USA, 5-8 Sep
-

REMIX - 10 years in the mix!

, Spor Klübü, Berlin, Germany, 30 Aug – 7 Sep
- Videoholica, Varna, Bulgaria, 4 Aug (artist talk)
- C the Film, Edinburgh Festival Fringe, Edinburgh, UK, 27 Jul - 27 Aug
- Nozstock Festival, Bromyard, Herefordshire, Fri 26 Jul

(Max Hattler Retrospective)


- East End Film Festival, London, 3 Jul (Emerge talk)
- Frederick Film Festival, Frederick, Maryland, USA, 28-30 Jun
- Edinburgh International Film Festival, Edinburgh, UK, 19-30 Jun
- Schaustelle, Munich, Germany, 15+16 Jun (Max Hattler: Selected Works)
- Schaustelle, Pinakothek der Moderne, Munich, Germany, 15 Jun (artist talk)
- Caostica Festival, Bilbao, Spain, 1-15 Jun
- Backup Festival, Weimar, Germany, 23-26 May
- The Animation Workshop, VIA University College, Viborg, Denmark, 21 May

(artist talk)


- Animasivo, Mexico City, Mexico, 9-19 May
- ITFS, Stuttgart, Germany, 27 Apr (nominated for Animated Com Award)
- AniFest, Teplice, Czech Republic, 27 Apr (lecture)
- London College of Communication, London, UK, 17 Apr (lecture)
- Frenz: Art in April, Strongroom, London, UK, 17 Apr (screening/talk)
- 6 Million Ways of Getting into the Arts, University of Salford, MediaCityUK, 16 Mar (talk)
- Plymouth College of Art, Plymouth, UK, 8 Mar (lecture)
- Exploring Your Future, Plymouth University, Plymouth, UK, 13 Feb (lecture)
- University for the Creative Arts, Farnham, UK, 8 Feb (lecture)
- Royal College of Art, London, 31 Jan (talk)



2012
- GOV Gasteig Open Video, Munich, Germany, 10 Dec 2012 - 25 Jan 2013
- Playgrounds Digital Arts Festival, Tilburg, NL, 22 Nov - 2 Dec (Expo Max Hattler at Gust van Dijk Project Room)
- HEAD - Geneva University of Art and Design, Switzerland, 22 Nov (artist talk)
- Freie Kunstakademie Baden-Württemberg, Fellbach, Germany, 15 Nov (artist talk)
- Blitzfilm Festival China Tour to Chongqing, Chengdu, Kunming, Shanghai, Qingyuan, Foshan, Hong Kong, Shenzhen, Tianjin, and Beijing, 3 Nov - 8 Dec
- Petersburg Computer Animation Studio, St. Petersburg, Russia, 2 Nov (presentation at Theories of Modern Animation seminar, hosted by Konstantin Bronzit and Anatoly Prokhorov)
- Multivision Festival, Pro Arte Foundation, St. Petersburg, Russia, 1 Nov (artist talk)
- Max Hattler Canal Commission, KXFS, London, 6-16 Sep (WATER SCREEN INSTALLATION)

WHAT OTHERS HAVE SAID
"A futuristic, kinetic, energetic new commission from moving image artist Max Hattler ... on a 10x15m screen of water rising from the canal alongside KXFS for performances each night." Kings Cross Filling Station, 2012

"The equation = X, an ethereal mist display emblazoned with geometric shapes and forms that dance a technicolored correspondence of light and new age dazzle." Animax Skopje Animation Festival, 2013

"...then it was over and I longed to see more. I wanted to live in that neon-and-artificial-yet-strangely-organic-and-alive world for a bit longer to see where things went. I couldn't make sense of it at first but felt that if I kept watching some hidden, important meaning would eventually present itself." The Tripatorium, 2013

"Projecting animations on a screen is nothing new—but what if that screen was made from water being blasted out of high-powered water jets? That's not an everyday occurrence, is it? German animator and visual artist Max Hattler has used exactly this technique to present his latest animation, X. If you're not familiar with Hattler's work, his style is colorful, haunting, abstract, geometric—a spectacle for the eyes that can jar you from a daydreaming slumber or equally hypnotize you into one. (...) The piece is a perfectly synced dance of light and sound, featuring abstract geometry shifting about to sci-fi-esque music, which is given added depth and surreality by its presentation on the hydro screen. (...) [more]." Kevin Holmes, The Creators Project, 2012

"(...) Open from last night is X (2012), a new film commission by media artist Max Hattler. This is a pop-up display in the most accurate sense. Jets of water shoot up from the banks of Regent's Canal to form a 10x15 metre screen onto which X is projected. (...) Hattler is used to presenting in non-traditional spaces: he has made work for media including smartphones, tablets – once even for the video advertising hoardings on the westbound Central Line platform at Liverpool Street station. X is a digital light show, amalgamating kinetic outline shapes glowing luminous green, purple, white and blue. It is a demonstration of all that is strongest about Hattler's work: the film is beautifully constructed and is a self-referential treat for the eyes. Where his most well known works explore some form of digitally-induced dystopia, X finds its most direct influence in Destination Docklands, Jean Michel-Jarre's 1988 concert/spectacle/extravaganza, and its glittering celebration of industrial and technological revolution in the age of postmodernism." Ajay RS Hothi, 2012

"a 3D geometric 'psychedelic ballet' over London's Regent's Canal … a dramatic new public art experience" Huffington Post UK, 2012

"Roll by the Kings Cross Filling Station in London this week, and you can take in a stunning laser light motion graphic sequence created by the experimental artist Max Hattler ... [more]" Computer Arts, 2012

"interesting and impressive technique" The Curious Brain, 2012

"juego luminico-expansivo." Visionary Film, 2013

"Max Hattler's skills may not quite be at the stage where he can walk on water but they're certainly great enough that he can animate on it." Directors Notes, 2012

"A film is about to be shown on a wall of water, sounds crazy right? But surely that's what London's all about – just when you think you've seen it all something knocks that thought out the window. This latest art work comes from the artist Max Hattler and you can see it yourself this week rising out of Regent's Canal." Who's Jack, 2012

"We are not big on supporting brands, who let's face it, only commision art works to up their cool status. But we'll stick the perverbial pipe in our mouths and smoke it, because however much we want to hate this Vauxhall-supported commission by visual artist Max Hattler, we can't, because it is quite simply mesmerising, as we found out when we stumbled on it, on a trip to Shrimpy's on Friday. Hattler has projected a colourful animation of flying shapes onto a screen of water – a high-powered jet stream that spouts 10×15 metres into the air from Regent's Canal, which he calls a 'psychedelic geometric ballet'. It's hypnotic as various shapes twist, turn and dance with each other, as they spit out lazers and probes, and morph into other shapes, Matrix-style. Spectacular and well worth a visit." Art Wednesday, 2012

"Watery light show is simply wild ... Max Hattler's mesmerizing light and sound art entitled X, wherein the moving image artist uses a fountain as the canvas for his fascinating display" Holy Kaw!, 2012

"It doesn't see that long ago we were posting about Max Hattler and his latest visual triumph, but he's already back with another stunning project. Max's Canal Commission: 'X', part of the Vauxhall Ampera Season at KXFS in King's Cross, launched last Thursday (6th September) and runs every evening until the 16th. If you can't get to London to see it live Max has kindly posted a video of the piece on his Vimeo channel which can be viewed below. We're a big fan of Max's visual output and each piece seems to have surpassed the last. 'X' is no exception, albeit taking a unique departure from his other recent works. The kinetic futuristic geometric neon visuals are back-projected onto a 10x15m screen of water rising from the canal giving the animation a ghostly shimmer. So whilst 'X' is a continuation of Max's abstract exploration into his other-worldly aesthetic, it's a whole new experience. One we hope to experience again in subsequent works, and with Max's prolific output we shouldn't have to wait too long." Animated Review, 2012

CREDITS
Directed by Max Hattler.
Sound and music by Eduardo Noya Schreus.
Animation by Matt Abbiss, Tony Comley, Valeria Fonseca, Max Hattler, Siobhan Mcelhinney, Luiz Stockler.
Commissioned by KFXS and Vauxhall as part of Vauxhall Ampera Season #VXAmperaSeason @TheKXFS.
Special Thanks to Sandra Sykorova.
Year: 2012
Available formats: 1080p HD digital file, DVD
Length: 6 min.